About Me
I'm a guy who loves playing music for folks.  It's that simple.  I bring a great deal of passion to my shows, and I give every person in the audience the best I can offer every time.  Do I play requests?  Well, If I know a song, I'll play it.  If I don't, I'll learn it; sometimes on the spot.
I feel fortunate to be able to do what I do for a living, and I'll always be sure that is evident in my playing and singing.
That's MY end of the bargain.  Yours is simple:  Just show up!  Go to my
Events
page and find out where I'll be next!
Solo guitar and voice has been my bread and butter since 2000.  Back then I was playing a regular Friday/Saturday gig in Concord, NH, and my artistic survival hinged on my ability to improvise and diversify.  It was a strange sight I'm sure to see a small room packed with 50 people jumping in unison to a dude jamming out Rage Against The Machine on an acoustic guitar, but that's just how it was sometimes.  I wasn't afraid to push myself, and that attitude has kept me working ever since.
I've played in various bands and musical situations over the years;  playing guitar and singing for HP Pennypacker and the Wealthy Industrialists was a treat right up until I moved to Colorado.  That outfit saw us playing small NH bars and private events, with classic rock and meticulous arrangements being a hallmark.  Steely Dan, Pink Floyd (playing Dark Side Of The Moon was a ton of fun), the Doors, classic Beatles…  We played the hell out of those tunes, and we had a great time, every time.
In 2007 I started playing solo shows in the Denver area.  At a showcase in Parker I met Ron Patrick, who helped me get my gig on in the 'burbs.  I soon landed a residence at the Blue Canyon Bar and Grill in Golden, where I played every Friday night for a couple of years.  It had been awhile since I had rocked the solo thing, and I enjoyed bringing the NH vibe to Golden and stirring up some newer music as well.  I met a ton of great people there and had the opportunity to play for folks I met there who were getting married in one corner or another in the state; I got to be the entertainment at several weddings thanks to that little bar.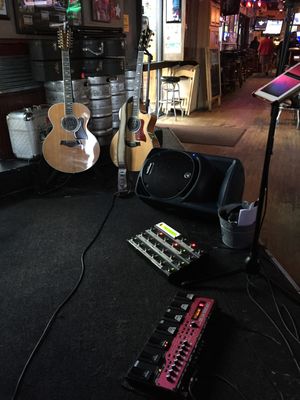 I also landed my first band gig in Colorado thanks to the Blue Canyon.  Mark Simpson (currently of Union Gray) and Rick DeLisle (currently of The Boomers) approached me about being the singer/guitarist for MotherLode.  THAT band was a treat.  With heavy emphasis on vocal harmony, all three of us would sing and provide a wall of vocals that never failed to impress.  Our thing was acoustic-based rock, and we did it well.  Covering bands like Collective Soul, The Fixx, U2, The Beatles, CSN and even Rush, MotherLode gained a reputation and following that I aspire to reach again in my solo and band projects.